A crane is a tower or derrick that is equipped with cables and pulleys that are used to lift and lower material. They are commonly used in the construction industry and in the manufacturing of heavy equipment. The top 7 types of construction cranes are normally temporary structures, either fixed to the ground or mounted on a custom built vehicle.
They can either be controlled from an operator in a cab that travels along with the crane, by a push button pendant control station, or by radio type controls.
As with all things in construction, the construction crane operator is ultimately responsible for the safety of the site, the rigging crews and the working crane. To learn more about crane safety you can read more about it here and see why Eagle West, Stampede and TNT Crane are committed to safety first.
The Different Types Of Cranes Used In Construction
Mobile Cranes
Mobile Cranes are the most standard and versatile type of crane used in construction today. The mobile hydraulic crane consists of a steel truss or telescopic boom mounted on a mobile platform, which could be a rail, wheeled, or even on a cat truck. The boom is hinged at the bottom and can be either raised or lowered by cables or hydraulic cylinders.
What makes this construction crane so versatile is it's footprint and mobility. In construction situations, it can sometimes be difficult to get close to where you need to hoist the materials. Moving a crane into a position that allows it to lift the material with the correct crane capacity is effected by the footprint of the crane. The foot print is the area required to have the crane set up it's outriggers into position that allows it to hoist the material while inside the crane chart requirements.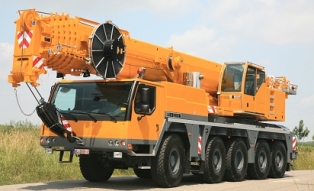 Telescopic Crane
Telescopic cranes offer a boom that consists of a number of tubes fitted one inside of the other. A hydraulic mechanism extends or retracts the tubes to increase or decrease the length of the boom. Most construction cranes today are in some form a telescopic crane. Except for the lattice boom crane with is a iron constructed frame that is bolted together to get the right height for the hoist.
Tower Crane
The tower crane is a modern form of a balance crane. When fixed to the ground, tower cranes will often give the best combination of height and lifting capacity and are also used when constructing tall buildings. Some large tower cranes will reach up to 1000 meters high! With an average floor dimension of a high rise equaling 3.5 meters/floor. That's a crazy 285 story building! Pretty incredible machines. One important thing to note about tower cranes, as they construct past a specific height, it is important to have the tower crane connected to the building to help prevent crane sway and crane tipping.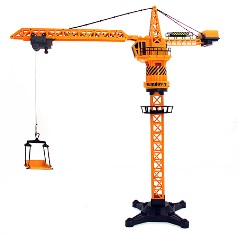 Truck Mounted Crane (also known as boom truck or picker truck)
Boom trucks or picker trucks are cranes mounted on a rubber tire truck and provide great mobility. Outriggers that extend vertically or horizontally are used to level and stabilize the crane during hoisting. The capacity of these cranes rarely exceed 50 ton capacity. As mentioned above, their versatility is found in their mobility and reach.
Rough Terrain Crane
A rough terrain crane is a crane that is mounted on an undercarriage with four rubber tires, designed for operations off road. The outriggers extend vertically and horizontally to level and stabilize the crane when hoisting. These types of cranes are single engine machines where the same engine is used for powering the undercarriage as it is for powering the crane. These cranes are ideal for constructions sites that have uneven, dirt and rocky terrain. The mobility and ability of the crane to travel around the site make it an effect support crane for lighter hoists on highway, construction and infrastructure projects.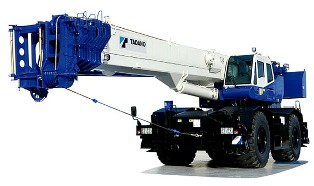 Loader Crane (also know as a folding boom crane)
A loader crane or a folding boom crane is a hydraulically powered articulated arm fitted to a trailer, used to load equipment onto a trailer. The numerous sections can be folded into a small space when the crane isn't in use. The capacity of these cranes have increased dramatically over the years. Presently there are 200 ton capacity loader folding boom cranes on the market today.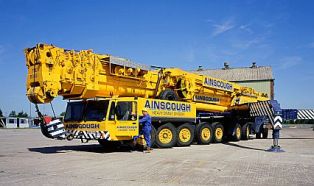 Overhead Crane
An overhead crane, also refered to as a suspended crane, this type is normally used in a factory, with some of them being able to lift very heavy loads. Larger overhead cranes (also known as goliath cranes) can be found in use in shipyards and large outdoor manufacturing plants. The hoist is set on a trolley which will move in one direction along one or two beams, which move at angles to that direction along elevated or ground level tracks, often mounted along the side of an assembly area.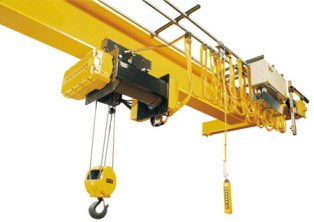 TNT Cranes offers a wide selection of construction cranes for rent. No matter what type of construction site you are working on, there is no job too big or too small for our cranes to handle. If you would like to learn more about the top 7 types of construction cranes, or if you are interested in renting a crane, please contact TNT Cranes at the location nearest you or by filling out a contact form on our website.